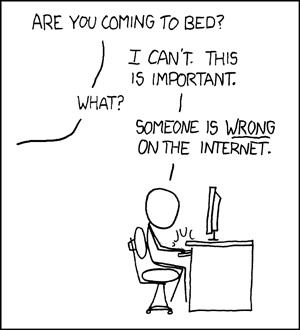 I love
xkcd
. He is often brilliant. But that has to be his most brilliant one ever. I've been on the internet a long time. I was using e-mail and listservs and bulletin boards back in the mid-80s. I've been in an online moms group off and on since 1997. I've had a blog since October of 2003. I've been around for the demise of several online communities, including one implosion that happened just a few months ago.
So I thought I was over this need to state my opinion, to charge in with flags waving and anger blaring, to point out to people that they are
Wrong
. I've been through my "save the world through the Internet" phase and come out the other side. It doesn't change the world. The online world is so vast now (
that's
what has changed in the world), that people just go find their little splinter group that believes the same thing, and does anybody's opinion ever really change? The splinter groups get more extreme, and (I hope) the rest of us figure out that the Internet works best as a way to stay in touch (with people we already knew) or get in touch (with kindred spirits)(which possibly equals our own splinter group). The only way my own opinions have changed in the last 30 years is to realize that they are really, truly just that.
Opinions
.
So it has come as a great surprise to me that not one, not two, but
three
times in the last month or so I've opened my virtual mouth and stuck in my virtual foot, with hobnail Doc Martens on. What the hell am I doing? On one major occasion, it was about something that I don't even really care about. I was reacting more to the attitude than to the actual issue. It was a dumbass move. I regretted it ten minutes after I hit submit. That's one of the reasons I've stepped away from my keyboard. If I can't keep myself from being an idiot, what the hell am I doing online? and why should you read about it? *sigh*
New topic. Every morning I drop MadMax off at school around 7:30. As I've said ad nauseum, I am not a morning person. Often I've been up until 12:30 or 1 a.m. the night before, and when my alarm goes off at 6:50, I feel like something the cat drug in. But by the time I've made his lunch and driven to the middle school and back, I'm awake and there's no way I'm going back to sleep.
This morning it occurred to me that I could go the grocery store on my way home. (Well, it's not exactly
on my way
home, but close enough). Grocery stores are open 24 hours, right? I've never bothered with the early morning version of that, but you know, it was a great idea. I got my grocery shopping done and was home before I was even fully awake. There were more people there than I was expecting, but it wasn't nearly as crowded as it will be by this afternoon, which is when I usually go.
But it occurred to me as I was standing in front of the eggs and the organic, free-range, antibiotic-free ones were FOUR DOLLARS AND THIRTY-NINE CENTS that we have reached the point of absurdity. One of my big gripes with processed food is that the major corporations who distribute most of our food care more about profit than they do about our health. But let's be serious here. It's not like the organic folks don't care about making money. It's not like the health-food guru who sells books, workbooks, DVDs, tote bags, water bottles, and bumper stickers is only in it out of the goodness of their heart.
I'm tired of all the fussiness. Ten years ago the holy grail was just making home-cooked meals every night. Entire cookbooks full of recipes using convenience foods were published so that we could get dinner on the table. Then it had to be from scratch. Then it had to be organic and from scratch. Now it has to be gluten-free, organic, and from scratch. Not to mention free-range, GMO-free, hormone-free, and antibiotic-free. And local. God forbid you should buy something that was grown on the other side of the country. And if you're not doing all those things, there are people who are willing to write long opinionated blog posts* stating that your children will grow up with some horrible problem or complication or allergy, or dammit, they might not be
perfect.
I'm ranting. Gah. And wasn't I the one who was just complaining about all the opinions on the internet? I'm on board with the effort to minimize the amount of processed foods that we eat, and to minimize shipping and packaging by buying locally. I really am. But I'm not going to extremes. We're pretty dang healthy. We get the occasional cold, I have occasional migraines. I'm willing to try various different things to see if they make a difference in how we feel. But I'm not going to double our grocery bill and quadruple (or more) the amount of time I put into grocery shopping and food preparation for a 5% increase in healthiness. I'm just not.
OK. Rant over. Move along. Nothing to see here.
*like this one.